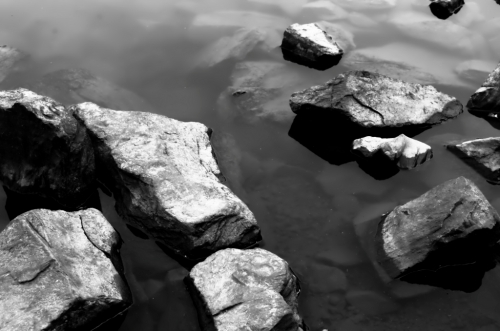 Mathematics for Poets: The Snigglefort
behold! behold! the snigglefort
the smallest of infinities
a hole in which to disappear
between uncountabilities
A photograph of rocks in the shallows of a lake.
Interesting things happen when we introduce the notion of an uncountable infinity to a system of counting such as mathematics. Consider the following simple subtraction:
1.00000000000...0
- 0.99999999999...9
------------------------
0.00000000000...1
By definition, an infinity of zeros followed by a one is not permissible, or can not exist. Take your pick. This cute "little" concept is one that Lewis Carroll might have loved, so let's call this "number" a snigglefort. No doubt, someone else has tripped over this concept, and my apologies if there is a "real" word for it. To sniggle is to fish for eels in holes; fort is an impenetrable place.
Homework: Prove, or disprove, that a snigglefort multiplied by infinity equals one.